A2 Hosting! One of the oldest hosting that is into this business for nearly 20 years. This is an independently owned hosting company that is know for its excellent features and high performance. They are the most reliable providers who aims to delivers great uptime and best service.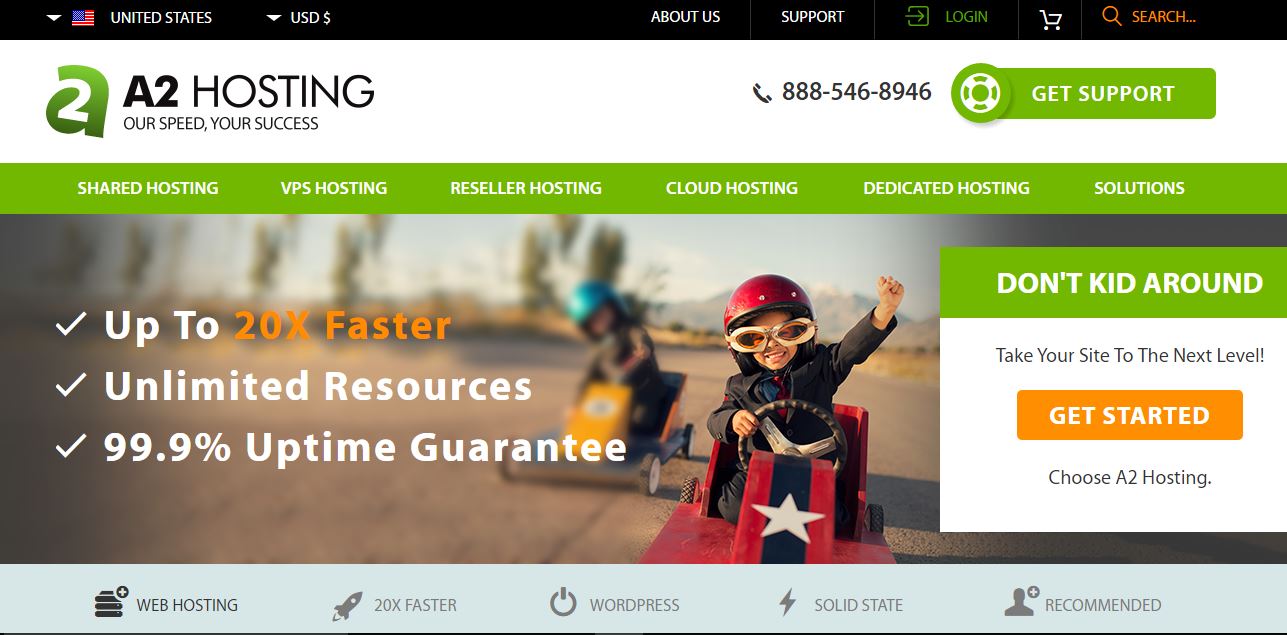 Features of A2 Hosting
Ultra Fast Speed: One of the strongest points of A2 hosting is that it offers blazing fast speed which makes then a step ahead than their customers. They are around 20 times faster than their competitors, be it GoDaddy or Bluehost. A2 is surely on the tops because of the speed drive conversions. They also offer a Turbo cache, Memcached and OpCache to ensure your visitors experience the fastest loading speed. You can trust them for giving you high speed so that you don't lose out on your customers. You can surely be reliable on them for excellent performance and high speed.
Customer Support: It is very obvious that not every one is an expert in developing a website and can seek for help while setting up a website. This is why is why you need to have a hosting provider that can provide you solutions at any time. With A2 hosting you can connect to the support team via different ways like phone calls, mails or text that are always available for all 24 hours on every single day. They also have various broachers available that have everything mentioned, in detail so that you don't can get solutions of simple issues.
Better Security: Security is another reason why A2 hosting is the most trusted and reliable brands. This hosting offers KernelCare and HackScan that comes with all their plans. KernelCare is nothing but a software extension that permits A2 to update their kernels about the security on every day basis. It will help you in reducing downtime and get faster updates. Whereas, HackScan is especially designed for malware protection. This runs for all 24×7 hours to protect website from security threats and malicious attacks.
Free Site Migrations: If you are using any other hosting and are willing to shift to A2 hosting then a it also offers free migrations that will help you move your site to A2 servers. There are various providers who charge huge amount, say $100 or more, nevertheless, with A2 you can get is done for free. However, the number of sites they can migrate for free depends on which hosting plan you have picked. The shared plans come with one free migration. The other plans like reseller, dedicated servers and VPS hosting plans comes with 25 free migrations. Also, you will be required to pay share you existing cPanel credentials to get this work done smoothly.
A2 is surely one of the best hosting providers that is to be taken into considerations. There are great and excellent features you can enjoy with the wide range of hosting plans offered. You can surely consider A2 hosting for your site.
Thank You for Visiting!